The era of prohibition becomes the backdrop in which the mafia, a young entrepreneur and vampires intersect in the new comic series blood oath. With the first issue of blood oath now available from Originals from ComiXologywe caught up with co-writers Rob Hart and Alex Segura to discuss collaborating on the ambitious new horror series, and we also have the debut cover for issue 2 to share with Daily Dead readers!
Thank you so much for taking the time to answer the questions for us Alex and Rob and congratulations on your new comic series blood oath! How and when did you come up with the idea for this series?
Rob Hart: Alex contacted me in 2019 about this I think. He wanted to do something with vampires and the mafia, and we kinda spat back and forth until we settled on prohibition as the setting. So… it was definitely a trip!
Alex Segura: Yeah, I knew Rob wanted to get into comics, and we had collaborated on a short story in the past, so I felt like it would be an easy creative experience. We work well together and aren't very precious in our writing, so we knew this part would be fun.
blood oath is set in 1922 during the Prohibition era, which is such a fascinating time in American history and a unique backdrop for a vampire series. Did you do a lot of research to properly describe what life was like in America at that time?
Rob Hart: A little, but I think we both felt quite comfortable writing at that time because we both knew her. The perks of being crime novel writers.
Alex Segura: I'm obsessed with books about the history of organized crime and American history in general, so I felt like we had a good base for the story. The crime era in New York before the founding of the "Five" Families is quite fascinating, and casting vampires as wildcards sounded like a fun world to play in.
blood oath is amazingly brought to life by the art of Joe Eisma. What was it about Joe's art style that made him the perfect person to create the visuals for this story?
Rob Hart: Joe brings so much energy to the page, and he was an amazing collaborator. It was my first time writing a comic and it was exciting to brainstorm with Alex and then pass things on to Joe, to see what kind of spin he would put into it.
Alex Segura: Joe is a pro and very underrated – just a huge talent who takes good notes and is always ready to think. We worked on this book in the "Marvel" style, which is to say we sent Joe a plot and then a script to his pencils, and that – I think – really let him go wild. I also have to give credit to our colorist, Hilary Jenkins, who is incredibly talented and brought a painterly style to Joe's lines that just added so much depth to the visuals and story.
About how long did it take you to writeblood oath? Did you go through several drafts before it was ready to send to Joe?
Rob Hart: It took years of back and forth to find a home for it, but as far as writing goes, it moved on pretty quickly. Alex is a comic pro, and I had a bit of a hard time learning, but we're also both ex-journalists, so we're good at working fast and meeting deadlines. The script itself moved quickly and we were really helped by our writer, Heather Antos, who did an amazing job helping us get this on the page.
Alex Segura: The process of bringing blood oath Life was long, but the work itself was fast – Rob, Joe and I, along with our fantastic editor, Heather Antos – were organized and diligent, and really wanted to bring our vision to life. Comic book publishing as a whole can be tricky, though, and we found ourselves buying the idea itself longer than expected. But sometimes it happens like that, and we ended up in the right place.
What's it like teaming up with Amazon's Comixology Originals to release blood oath in the world?
Rob Hart: ComiXology was great! They let us write the comic we wanted to write and they gave us the support we needed to get it out to readers. 10/10, would work with them again.
Alex Segura: ComiXology Originals has been very supportive of me, first with The black ghost and now blood oath. They allow creators to tell the stories they want to tell and provide unparalleled marketing support and reach. It's hard to beat.
The initial arc of blood oath is five issues, but do you plan to extend this series beyond that if you get the chance?
Rob Hart: We have a lot of ideas to open this thing. Definitely a clear idea of ​​where we would take a second and third set of problems, and some crazy ideas of how to really spin it…
Alex Segura: We have about three "seasons" freely plotted. We really think there's a lot of room to explore in the world, which has always been the idea.
By working on blood oathwere you influenced or inspired by other comics, novels, tv series, video games or movies?
Rob Hart: My biggest influence here has been Boardwalk Empire and, I would say, What we do in the shadows. It's not that it's a comedy, but I think what WWDITS does so well is take vampire lore and put a really unique spin on it. That's always what I want to do when I write something like this: how do we make our vampires different?
Alex Segura: Same on Boardwalk Empire. I've also read a ton of organized crime books, like Selwyn Raab's Five Families. I've always loved Anne Rice's vampire sagas too, so that played a part as well.
Ultimately, what do you hope readers take away fromblood oath?
Rob Hart: I hope they have a good time with it!
Alex Segura: I hope people enjoy the adventure and the characters – we all pay a lot of attention to the story and are really proud of it. Above all, I want people to have fun.
Alex, in addition to blood oathyou and co-writer Monica Gallagher (with artist George Kambadais) have The black ghost Season 2 #1 will be released on August 30 via Amazon's Comixology Originals. What can our readers expect from the "Shame the Devil" story arc of the final season of The black ghost?
Alex Segura: Season one was the origin and setting, but we wanted this year to be just as meaningful, so now we get to the heart of the matter: Can and should Lara be The Black Ghost? Does she have what it takes to balance her life – relationships, self-care, work – and get out there and fight crime in a town as corrupt as Creighton? What happens when a savage killer begins to tear apart the city's underworld, and how does this connect to Lara's own past? Everyone had fun creating this story, so we can't wait for people to experience it at the end of the month.
What advice would you give to budding writers just starting out?
Rob Hart: Be persistent. It went on for years and we had to deal with many setbacks. You wouldn't be reading it if we had given up. And there were plenty of opportunities to do so.
Alex Segura: To do work. It's the only thing you have complete control over. do the work and obtain to work as quickly as possible. Adding too much ceremony to the craft will only slow you down.
With blood oath and The black ghost Season 2 premieres August 30, what other upcoming projects are you excited about, and where can our readers go online to follow your work?
Rob Hart: Alex and I have another project coming out soon – not a comic, and hopefully we can share some news about it soon. And I drive on some of my own stuff. You can always find out more at www.robwhart.com, or by following me on Twitter at @robwhart or on Instagram at @robwhart1.
Alex Segura: I have Superman news coming in November in DC's SUPERMAN: KAL-EL RETURNS #1 special. THE AWAKENED, my black superhero series from Zestworld, is released there monthly, and I have a White Tiger short in the upcoming MARVEL VOICES: COMUNIDADES one-shot next month. Plus, the thing that Rob teased! I'm sure I forgot a few things – but it's great to be busy.
———
Below you can check out our cover art debut for blood oath #2, and for more on the new comic series, visit Originals from ComiXology!
Comixology Originals announces blood oath, a Prohibition Era horror comic series co-written by acclaimed novelists Rob Hart and Alex Segura. With illustrations by Joe Eisma, colors by Hilary Jenkins, letters by Jim Campbell and editing by Heather Antos, blood oath #1 (of 5) debuts August 30 from Amazon's exclusive Comixology Originals digital content line.

Hart and Segura, both comic book fans, first co-wrote the "Bad Beat" digital short. Now, combining their talents in their first comic book series together, Hart and Segura feature Hazel Crenshaw, a strong-willed, self-reliant young woman making her way in 1922 at the height of Prohibition. Hazel just wants to be left alone to tend to her farm, take care of her younger sister, and run her business, but her secret business inevitably becomes entangled with New York's gangs who eventually merge with the Mafia and a new unknown partner. . When her Staten Island farm is attacked, Hazel must not only defend her home, she must face the realization that her flirtation with the other side of the law could also put her in the crosshairs of something else, something much more sinister.

The black ghost—by co-writers Alex Segura and Monica Gallagher, artist George Kambadais, colorist Ellie Wright, letterer Taylor Esposito and editor Greg Lockard—is back! The gritty crime comic series about a masked activist fighting for the soul of her town continues monthly with issue 1 of season two, arriving August 30, 2022 from the exclusive digital content line Comixology Originals from Amazon.
blood oath #2 Front cover: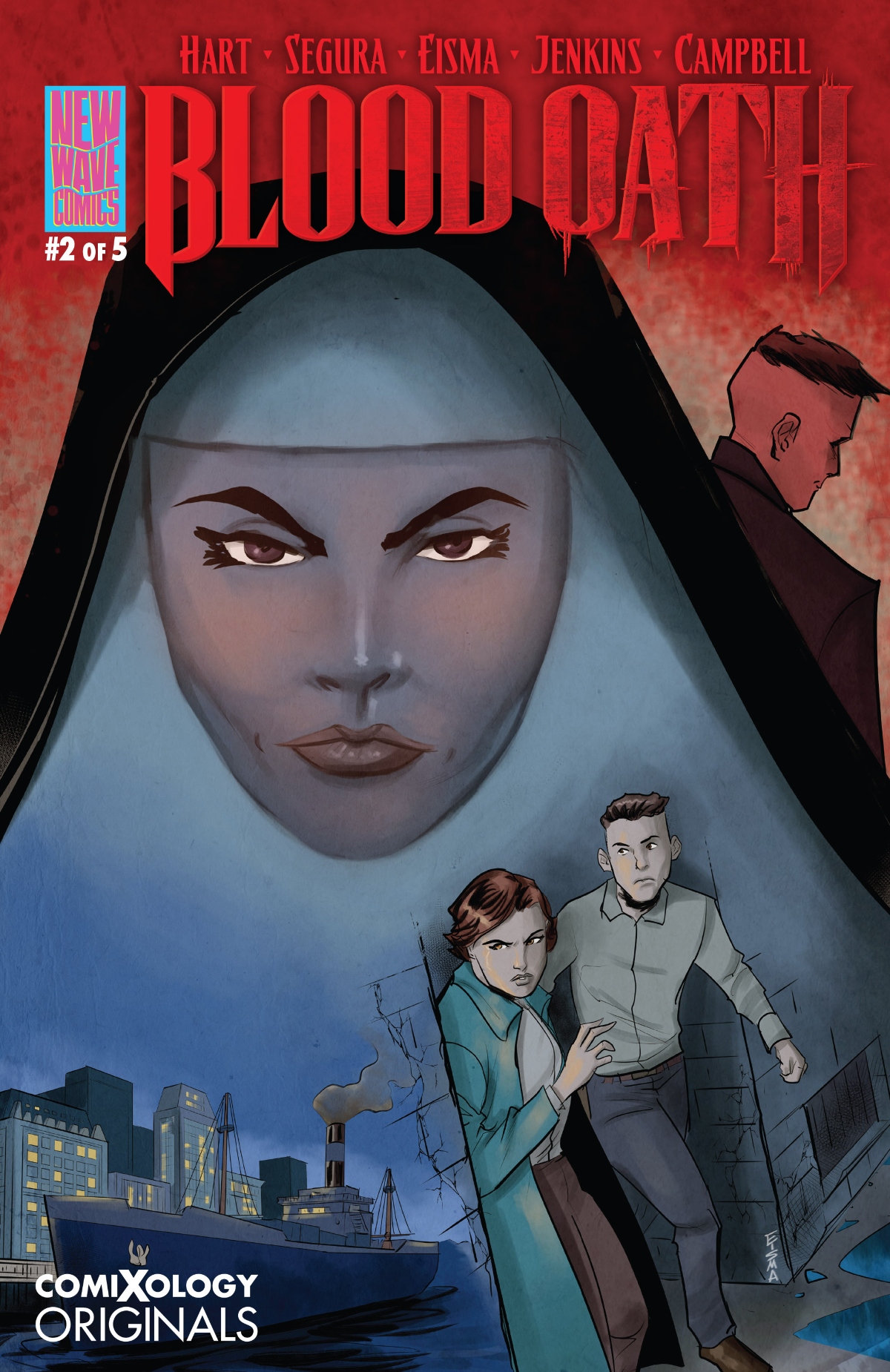 blood oath #1 Page overview: